Some artists are content just recording music and releasing it online. However, most people seek a career in the music industry to play shows and perform in front of an audience. Unfortunately, one of the most daunting tasks every musician faces is finding and booking gigs.
Hey musicians: how do you book gigs when you've never done it before?

— Rhyler, the Creator (@RhyeRhythm) October 13, 2019
It's even harder if you're starting from scratch, with no past experience performing. From finding venues to play in, bands to gig with or reaching out to promoters and booking agents, it's an involved process.
To make things worse, you don't want to risk taking the wrong approach and making a bad impression. This could quickly ruin any future relationship you could have with a venue.
This guide of tips will help you avoid making the same mistakes that so many amateur musicians do when setting out to find gigs. If you follow these steps, you'll be well on your way to playing regular shows.
1. Have High Quality Demos/Releases
If you're a new band who's just getting started, booking agents and promoters probably haven't heard of you before. Because of this they don't have much reason to care about you as an artist and you can't blame them for that.
So, when you're first reaching out to find gigs, you want to make sure you're putting your best foot forward. The best way to do this is with high quality recordings of your music.
Many bands only have simple homemade demos when they're starting out and it can really hold them back. In order to make sure your music captures the true essence of your band, it's a wise choice to invest in high quality studio recordings even during the early stages.
Although going into a professional studio may seem like an expensive endeavor it doesn't have to be. Nowadays there are plenty of online recording studios that offer high quality recordings at a low cost.
Sundown Sessions connects indie musicians with award winning engineers and producers from around the world. Whether you're recording a full album, making an EP or just need some simple demos, our services give you an edge over the competition. 
Check out our pricing and packages page for more information.
2. Create A Professional EPK
Once you have some high quality demos of your music, you should put together an attractive electronic press kit or EPK.
artists, you need an EPK. period.

— chombita ✨???????? (@bklyngirlvee) November 14, 2019
This is a one page document or web page that gives industry professionals a quick look into what your band is all about. They can include photos, music, videos, a biography and more content on your act.
EPKs are an integral tool when it comes to making a strong first impression with booking agents. So, you don't want to brush over this step.
For a more in depth look on this tip, check out our guide on creating a powerful EPK.
3. Work On Your Live Show
Before you even begin finding and booking gigs, make sure that you and all the other musicians in your band know how to put on a strong live show.
Booking a show is pointless if you haven't put in the time necessary to benefit from it. Not only will a powerful performance gain you new fans, it will also impress the booking agent and increase your chances of future gigs.
So, make sure you put in a lot of time rehearsing your live set and don't start booking gigs until you're confident.
4. Research Appropriate Venues
When finding venues to book gigs in, be cognizant of the types of musicians and bands that play there. Certain venues are known to book specific genres of music and reaching out to a venue that doesn't align with your music may not be worthwhile
First, you're going to have a hard time convincing a booking agent to hire you. Secondly, even if you do, the venue probably won't attract your ideal audience.
For example, folk is best performed in mellow environments, where audiences are attentively listening to the music and lyrics. So, a rowdy bar might not be the best choice for this type of music
However, a heavy rock band would go over well in this environment as the louder music has a way of pulling attention and creating the ideal atmosphere.
You also have to think about limitations such as venue size. As an example, playing a show in a tiny coffee shop is a good idea if you're a singer-songwriter but not if you have a big band with six musicians in it.
Anticipate how big your audience will be in a specific locations as well. If a venue fits 300 people but only thirty people come out, it'll seem like a small audience. However, this same group of people would be an awesome turnout in a small venue.
So, spend time looking into what types of musicians a venue books and whether the size meets your needs before reaching out to them.
5. Look At What Other Bands In Your Niche Are Doing
 If you don't know where to start booking gigs, one of the best tactics is to follow what other acts are doing. No matter what your genre is, tons of musicians have already gone through the process of finding and booking gigs. So, this can serve as an excellent road map.
Start by finding a few acts that are similar to you and look for a tour dates section on their website. If they have no past or future shows listed, social media is the next best place to look.
If a band is using their Facebook page properly, they'll have an "Events" tab in the menu on the left hand side of their page. Here you can view not only the upcoming Facebook events they're a part of, but also past shows.
If you find nothing there, scroll through their social media accounts and look for posts promoting shows.
Not every band is going to be playing gigs and not every venue a band plays is going to be worth booking. However, if you spend a couple hours using this approach you'll slowly start to amass a useful list of potential locations.
6. Ask Around
You would be amazed by how much information you can receive from a few quick Facebook messages. If you know some musicians in an area you're trying to find gigs in, reach out and ask if they have any venue suggestions.
The people you're messaging don't even need to be in your genre. If they're involved in their local music scene then they probably have some relevant information. They may even have advice on specifically who to reach out to and the best approach to take.
You may also consider messaging acts you don't know for advice. If you're polite, they'll be more than glad to help out, as they've probably been in your shoes before.
7. Build An Online Presence
One of the best ways you can get venues to pay attention is by having a strong social media presence. That doesn't mean you need thousands of fans to find success when booking gigs.
Many bands try to make themselves look popular on social media by buying fake followers. However, industry professionals are aware of this tactic and can tell if that's the case.
If they discover that you're social media followers are just a bunch of fake accounts it will actually deter them from booking you. So, we urge our readers not to take this approach.
What's more valuable than the number of followers is their engagement with your posts, such as comments and shares. Even seeing that you actively use your social media to post content and promote shows will help you make a positive impression when booking gigs.
So, spend time posting on social media and creating engaging content that encourages fans to interact with you online. Be sure to return the favour to your fans by responding to their comments and thanking them for their support.
8. Collaborate With Other Bands
Finding other musicians and bands in your niche to play gigs with can greatly accelerate your career.
One method is to find other acts in your home town and organize a show together to pull as many people out as possible.
Another approach is to find artists in other cities who are connected to their local music scene. You can then organize what's known as a "gig swap". This is where you're both responsible for booking a show in your hometown that you then share the bill on.
Either way, the result is that you both pull different fans and each act walks away from the show with new listeners who would never have heard them otherwise.
9. Go To Concerts and Network
The first step in a successful music career is just to be an active participant in the music industry. That starts by going to shows, supporting other acts, meeting industry professionals and learning about your music community.
By going to other bands gigs you can scout out venues to play, other acts to perform with and probably learn how shows are booked for that space.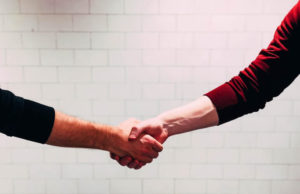 Networking can have a massively positive impact on your career. So, chat with those involved in the space, whether that be the bands, the sound guy or even the bartender.
Chances are you'll eventually run into the person who books the shows for that space but once you do, don't aggressively try to get them to hire your band. The secret to networking is not to talk about business the first time you meet someone.
Instead, get to know them as you would with anyone else and compliment them on their work in the venue. When it comes up, you can mention that you're in a band and ask for their email to reach out in the future, but leave it at that.
Networking takes a lot of time and energy but it's entirely worth it. Having strong relationships with industry personal can take you further than any other tactic for booking gigs. Check out the video below for some more tips on networking:
10. Approach Venues Professionally
Once you find venues or have contact information for booking agents/concert promoters, you want to make sure you approach them in a professional fashion.
Don't just copy and paste the same message to every person. Be polite, personable and make sure you've researched their work before contacting them.
Recognize past shows they've organized which you've enjoyed or those that were similar to your sound. Finally, express why you think you'd be such a great fit for the venue and thank them for their time.
11. Don't Forget To Follow Up
After reaching out to booking agents and sending them you're EPK, they probably won't book you a gig right away. In fact, there's a good chance they won't even respond to your email.
This is because they get tons of emails every day from lots of bands. It's their job to match these bands up with each other into cohesive concerts. So, they may be waiting until they have a line up that you fit into. However, if you don't get a reply from them acknowledging that they've received your email, it's a good idea to follow up after a week or so.
If they respond but go months without offering any performance opportunities, you may once again want to follow up. Being consistent assures that you're the first person who comes to mind when they're putting together a show in your niche.
If you release new music, videos or update your press kit, send them a friendly message to share it with them and keep them in the loop of your bands growth. Just make sure you're personable and don't consistently pester them with the same email over and over. 
12. Use An Online Booking Platform
There are many online tools out there that help musicians find and book gigs. Most charge a fee in one way or another and some are better than others.
The biggest platform for connecting artists to booking agents is Sonicbids. It's an awesome service that helps acts create professional EPKs and connect with promoters in all genres. It has a free version that comes with limitations but is still quite useful.
There are plenty of other online booking platforms that help musicians find gigs as well. So, check out this guide from Hypebot for a full list of possible tools.
Although these platforms have their uses, they shouldn't be the only method you use. It can be a very impersonal way to go about booking gigs. Because of that, it may not yield results that are as noticeable as contacting a venue directly.
13. Keep an Organized Spreadsheets of Venues
As you start to find possible locations for gig booking, organize all the data into a spreadsheet for future reference. Make sure to include fields with the venue name, location, booking agent and contact info.
This will make it easy to book future performances and plan tours when you need to quickly find venues in specific areas. The more years you play shows, the bigger the list will grow and the easier the booking process becomes.
14. Rent a Venue and Invest In Yourself
If you don't invest in yourself, why would you expect other businesses to do the same? This may seem like a daunting task, but if you really want to play a show in a specific area and are certain you'll pull in a crowd then you can always rent a venue and organize a show yourself.
Almost all performance spaces will let you rent the facility to put on your own concert. You'd be surprised at how affordable certain places are.
It comes with a risk and takes a lot of time to book a venue, find musicians to perform and to promote the show. However, done right it can be a huge benefit to your career.
Even if you just break even or lose a little bit of money on the event, it can still be worth it to grow your audience and start putting yourself out there.
I recommend that every band try to book and promote their own show at least once. It will give you a whole new insight on the industry and you'll have a higher level of respect for booking agents and promoters.
Not only that but it shows other promoters how dedicated you are and you'll gain their respect as a committed artist.
15. The Work Doesn't Stop Once You Get The Gig
Finding a venue and booking gigs is only half the battle for the indie musician. Once you have an upcoming show you need to dedicate time promoting the event to your fans and selling tickets.
On top of the obvious benefits, if you bring lots of fans out the promoter will love you. This ensures that they'll want you back and will book you for more shows in the future.
On the other hand, if you don't promote your show and bring a small crowd, there's a slim chance you'll be invited back. You can't expect the promoter to do all the work as you're the one with the most direct contact with your fanbase.
Also, don't forget the importance of putting on a good show on the night of the event. Impressing the venue with a solid performance can only help your chances of coming back in the future.
Conclusion: Finding and Booking Gigs in 2020
Being an indie artist means wearing a lot of hats and organizing shows is just one of them. There are a lot of different approaches to finding venues to play and all of them require some worthwhile effort.
First, recording high quality music and using it to create a memorable press kit will help you put your best foot forward. Having a strong online presence will make you more appealing to booking agents as well.
Going to concerts to network, looking at what other bands are doing and collaborating with them can help. There are also plenty of online tools out there that you can use to find performance opportunities.
When you reach out to booking agents and promoters, make sure you approach them professionally and don't forget to follow up.
Remember that the work doesn't stop once you get the gig. Put in time rehearsing a strong live show and promoting the event to your fanbase.
If you research the ideal venues, approach them in the right fashion and put on a well attended show, chances are they'll book you again. Before you know it, you won't have to find gigs anymore, instead the gigs will find you.
If you like the tips in this guide be sure to share it with your friends. Check out the rest of the Sundown Sessions Studio Blog for more tips on music business, songwriting and home recording.